The Federal Reserve has again raised key interest rates in the US and says more hikes are coming in the fight against rising prices.
Most important points:
US inflation has risen to its highest level in 40 years
Federal Reserve Chair Jerome Powell says cutting it will require slower growth and higher unemployment
Fed expects further rate hikes this year and no cuts until 2024
The aggressive stance has fueled fears of a recession in the US, with Federal Reserve chairman Jerome Powell warning that the process of overcoming inflation will involve some pain.
It was the third consecutive 0.75 percent increase by the Fed's policy-making Federal Open Market Committee (FOMC).
The interest rate hike – the fifth this year – brought the key interest rate to 3 to 3.25 percent.
The FOMC said it expects "continued increases will be appropriate."
Rising prices have put American families and businesses under pressure.
They have also become a political liability for US President Joe Biden, with midterm congressional elections beginning in November.
But a contraction of the world's largest economy would be a more damaging blow to Mr Biden and the world at large.
Mr Powell has made it clear that officials will continue to act aggressively to cool the economy and prevent a repeat of the 1970s and early 1980s, the last time US inflation spiraled out of control.
It took tough action — and a recession — to finally bring prices down in the 1980s, and the Fed is unwilling to give up its hard-won, inflation-fighting credibility.
Mr Powell said the US central bank was determined to raise interest rates and keep them high until inflation fell, and warned against a too quick change of course.
"The historic record strongly warns against an early easing of policy," Powell said.
He said there was no room for complacency and that the Fed "as long as the job is done".
But he said it would be appropriate at some point to slow the pace of tariff increases, depending on the data.
'I wish there was a painless way'
Mr Powell acknowledged that cutting inflation would require a period of slower growth and higher unemployment, noting that the labor market was out of sync, with many more job openings than employees.
"We need to get inflation behind us," he said.
"I wish there was a painless way to do that. There isn't one.'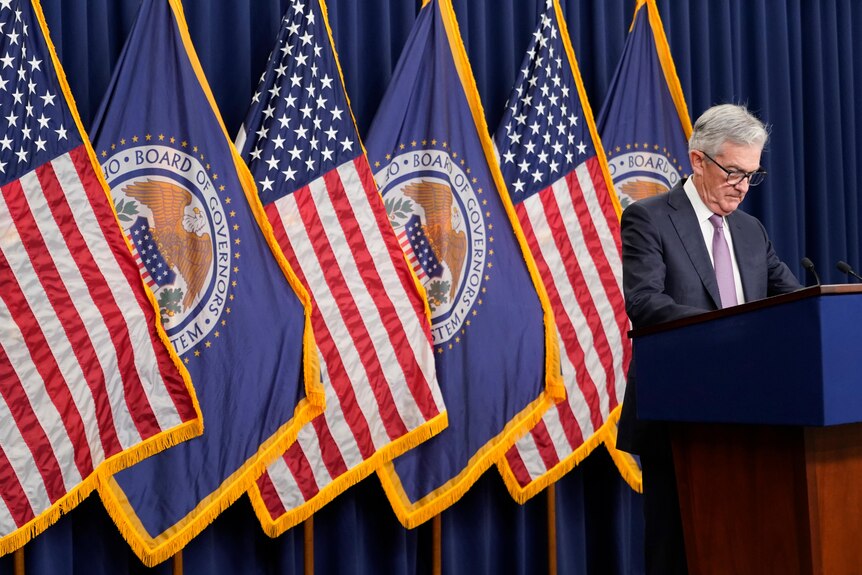 However, he said continued high inflation would be even more painful, especially for those least able to withstand it.
The Fed's quarterly forecasts released with the rate decision show that FOMC members expect US GDP growth to remain broadly flat this year, rising just 0.2 percent.
But they see a return to expansion in 2023, with an annual growth rate of 1.2 percent.
They forecast further rate hikes this year — 1.25 percentage points in total — and more in 2023, with no cuts until 2024.
While the FOMC noted continued "robust" job growth and low unemployment in recent months, the unemployment rate was forecast to rise to 4.4 percent next year and remain around that level through 2025.
The FOMC statement pointed to "wider price pressures" beyond food and energy, highlighting that officials were "strongly committed to bringing inflation back to the 2 percent target."
The goal is to raise the cost of borrowing and cool demand, and it's having an effect: the housing market has slowed as mortgage rates have risen.
Many economists said it would take at least a short period of negative GDP in the US in the first half of 2023 before inflation started to fall.
Nancy Vanden Houten of Oxford Economics said the Fed's updated forecasts "recognize the toll higher interest rates will take on the economy," but said, "Their forecasts are more optimistic than ours."
Shares on Wall Street turned negative following the announcement, while the US dollar rose to its 20-year high.
AFP