Japan's first victory over Germany brought a World Cup seismic shock and rewarded Hajime Moriyasu's bravery. The coach squeezed this Group E opener his way with a series of substitutions in the second half that transformed the match and led Germany to defeat in their opening match of the World Cup for a second consecutive tournament.
Four years ago, a strike by Hirving Lozano in Russia gave Mexico a famous victory over the four-time champion. On Wednesday, it was Bundesliga side Bochum's Takuma Asano who thrilled the vocal Japanese fans at the Khalifa International Stadium, along with his teammates and the rest of the squad who poured onto the pitch to celebrate his 83rd-minute winner.
Asano, one of Moriyasu's five substitutes, skillfully brought down a float ball down the right, outwitted Nico Schlotterbeck and, after racing at Manuel Neuer's goal, shot in, the Germany captain looking in favor shrinking from throwing his frame squarely in the way.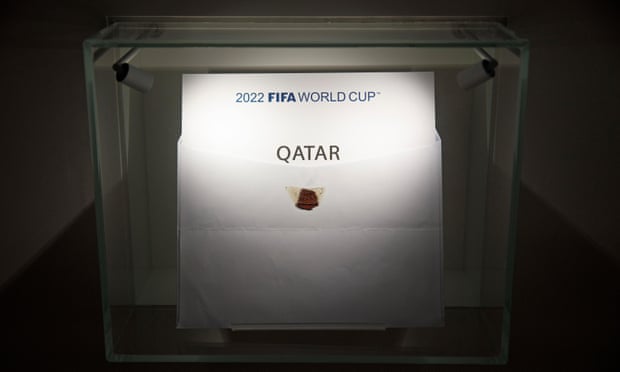 Minutes earlier, Ritsu Doan, another substitute, had equalized Ilkay Gündogan's penalty in the first half and Doan looked to have a good shout for his own penalty as Antonio Rüdiger knocked him over. Although Germany pushed to the end – Neuer joined one attack in extra time – they couldn't break down the blue wall for them and after Saudi Arabia's shock victory over Argentina on Tuesday, Qatar 2022 is now upset, hailed at the final whistle with delirium through Japan. All this with 26.2% possession, which underscores the truth that what is done with the ball is what matters.
Japan had given an early warning when their speedy right winger Junya Ito broke down the flank and Daizen Maeda scored but was rightly offside. From this moment on, however, Germany dominated until the hour. From his midfield berth, Joshua Kimmich controlled the flow, displaying a display of control and creativity as Gundogan played full football. did twice before the break.
After Shuichi Gonda pushed a cross from David Raum straight into Gundogan's path and he only released for veteran defender Maya Yoshida to make a beautiful block, Gundogan's penalty came. Gonda twice charged the left-back in the penalty area – the second when Raum shot straight up – and the referee, Ivan Arcides Barton Cisneros, awarded the kick. Gundogan defeated Gonda and Germany were now at their best, Jamal Musiala's clumsy feet and clever distribution from the left added even more swagger to those of Joshua Kimmich, Gundogan and Thomas Müller.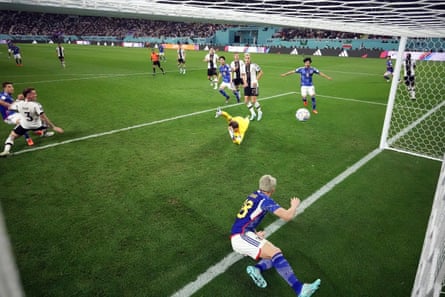 In a flash, the 19-year-old found space, but he burned over, Musiala's debauchery just one example of what would prove to be so precious in this moment. Japan wanted the half-time whistle, Germany because it wouldn't sound as rampant as they did – as Kai Havertz's added time attack, brushed off for offside, pointed out.
But it came and so did Moriyasu's new introductions, starting with Takehiro Tomiyasu at half-time and followed by Kaoru Mitoma and Asano (57 minutes), Doan (71) and Takumi Minamino (74). It was all telling because as the hour passed, Japan suddenly punched holes in Germany. For Doan's equaliser, Gonda made a stunning quadruple save in a staggering run, the first from Jonas Hofmann's attempt, then from Serge Gnabry who saw header, shot and shot bounced back by the goalkeeper.
Next, Neuer busted out an Ito chest-and-hit and run-in Hiroki Sakai wildly skipped the rebound before Doan struck. Three substitutes combined: Mitoma led Minamino whose cross was palmed by Neuer to Doan who couldn't miss, sending the ball hitting the roof of the net.
Germany was stunned and about to go down for eight counts. From the right, Ko Itakura swept the ball down his corridor and there was Asano to take over.
Germany had all but disappeared. In the seven minutes of extra time, they clamored for a second penalty as Niclas Füllkrug went down: this was as desperate as Rüdiger's 35-yard effort and summed up how disheveled Flick's side had become. At the final whistle, Japan were in dreamland and Germany needed to beat Spain to maintain control of their World Cup destination.
This all happened after the players of Flick posed for the team photo with a collective hand-over-mouth-gagged gesture and the German Interior Minister, Nancy Faeser, wore a OneLove bracelet – which stands for tolerance, diversity and LGBTQ+ rights – as she sat with Gianni Infantino in a clear act of defiance against the FIFA president and his organization. This was followed by the governing body that instructed seven European countries, including England, that their captains were not allowed to wear the armband.
It will be intriguing to see what attitude Harry Kane and his teammates take in their next game – against the US on Friday – but this late afternoon in Doha belonged to Japan, led by Moriyasu, who, during the post-game media briefing, was applauded by the Japanese. journalists.
He and his team deserve a lot of credit. As Gonda said, "I think this Japanese team has character. We would like to get to the quarterfinals; that is our goal." Next for them is Costa Rica, who will not enjoy the encounter after this display.