Yes: the rumors are true. The Premier League, which never really disappeared, has returned. And it felt pretty good on a balmy Friday night, watching an Arsenal squad of eager new moving parts do a great job of sparking some tender early season expectations at Selhurst Park.
It was 24 degrees in South London as kick-off approached on the earliest date England's top league has ever started. This was a kind of parched heat, the grass scorched white, the sky deadly blue. The English summer certainly has a sense of irony. To avoid the Gulf sun, the Premier League is instead playing through a heatwave in England.
Despite everything, this was a fun, light-hearted start to the season. If last week's Community Shield felt like some sort of visitation, football reimagined as a 90-minute Sopranos dream scene, it had a familiar feel to it. A London derby. A closely-coupled system administrator. That dim summer sun. Maybe this was real.
It's a question that could also apply to Arsenal in a season that will define Mikel Arteta's work thus far. They started off with a daring 11, the kind 11 that's thrown around on fan chats, the hopeful 11, the breakfast pie 11. Saliba! Martinelli! No filling! Except maybe Granit Xhaka! But that's fine, he's good now too!
Towards the end of a hard-fought 2-0 win, a score that failed to reflect Crystal Palace's resilience between goals, it felt like something was afoot here. Gabriel Jesus was good. Oleksandr Zinchenko was good for a while. William Saliba was very good and will get the most attention.
Saliba made seven distances without ever having to tackle. His passing was solid. He didn't look nervous or even very tired by the end, a step up from the fraught, snot-stained displays of the Arsenal centre-backs' past. He crawled through this and teased things in his head a few seconds beforehand. This is good. Where has he been again?
If the game was reassuringly lively, there were some troubling developments in Sky Sports coverage for TV viewers on opening day. Before kick-off, Gary Neville and Jamie Carragher were sent off to do vox-pops with fans, a step up from going out to get some milk, but a dilution of the expert analyst role. Why not go all the way and just hang them in a pub somewhere?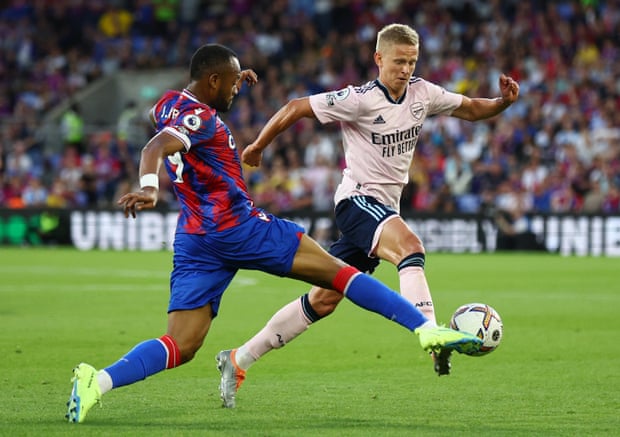 Gaz and Carra did their best. But frowning dudes in replica shirts abound outside the paywall. Forensic, graphical content is what people pay their subscription for.
Then there was the strange, claustrophobic prospect of Patrick Vieira having to utter breathless platitudes during halftime. This was unpleasant for all involved. Vieira doesn't want to do this. He is not part of the spectacle at that time. This isn't American wrestling yet. Stop overproducing this thing. The game is good. Believe it.
And both teams were good, Arsenal from the start. Gabriel Jesus did something brilliant in three minutes, he stole the ball 40 meters from the goal and produced a nutmeg and a side step. For a long time, those pink away shirts, the color of heat-damaged processed ham, found neat little triangles. Zinchenko was excitingly mobile and took more touches in the opening half hour than anyone on the field.
He had a hand in the opening goal and found five meters of unmanned space by looping from the edge of the penalty area. He headed the ball back. Martinelli nodded.
Jesus was also quick on his feet and desperate to dribble and turn. Broadly speaking, he is exactly what Arsenal need: pressure, sharpness, authority. Maybe people have forgotten how good he is, or how good he was meant to be. Between them, Jesus and Martinelli had eight dribbles and four shots in the first half hour of the season. They played together for Brazil against Japan in Tokyo in June. They should be that good.
Palace is exhausted by injuries and the loss of players. Expectations are low, which might be a handy place to be, but Vieira really seems to know what he's doing and which players he can trust. They pushed Arsenal back on either side of halftime and used Wilfried Zaha as a weapon against Ben White. But it was also an opportunity for Saliba to show his qualities. In addition, Arsenal have Saka, who scored the second goal and forced Marc Guehi to block a hard low cross into his own net.
For Arteta the trajectory is clear from here on, a moment to realize the investment in time and resources. But they have a playstyle and a blueprint. The shadow of the great Arsene has passed. The shortcomings here are the shortcomings of this team, the strengths on which Arteta has grafted. Whisper it, but this was actually quite encouraging.