Gareth Southgate has been here before – in his nightmares in Molineux. In June, at the end of the 4-0 humiliation against Hungary, the England manager ventured onto the pitch to applaud the home crowd. The booing that greeted him was dripping with poison.
And so full time here. After Hungary home; Thank goodness, after the loss to Hungary – plus the draws between Germany and Italy that got this Nations League campaign off to such a bad start – it was a night when Southgate desperately needed a mood changer, something to restore faith. But there would only be more frustration, more dead ends, a lack of creative inspiration.
Once again, Southgate went to the playing surface when it was all over, looked up at the traveling support and applauded them. They turned to abuse. They had seen little to encourage them and Southgate is to blame.
Italy were deservedly victorious and sentenced England to relegation to the second tier of the Nations League, the defining moment coming towards the end when the fast-rising star, Giacomo Raspadori, killed a high ball and felt Kyle Walker was giving him too much space.
The Napoli striker took a few touches to position himself, drifting further away from Walker before wrapping his right shoe around a delicious curling iron that flew into the far corner. Raspadori didn't make his debut in Italy until June. He already has four goals.
With the World Cup on the horizon in late November, England's slump has come at its worst. The Nations League's relegation has implications for Euro 2024 qualifiers. It will also see them play inferior opponents in the Nations League moving forward, reducing the chances of aligning themselves with the best. But those problems feel incidental.
The big question is how Southgate and his players will recover for the opening game of the World Cup against Iran, whether they can erase the noise, the suffocating stories that are quickly building up. Before that, there's Monday's Nations League final against Germany at Wembley, which looks like an even more intimidating assignment. That is it.
No matter no wins in five – the worst run since 2014 under Roy Hodgson – it's only one goal for England in the series and that was a Harry Kane penalty against Germany. There is one other team in the Nations League that has not scored a goal in open play. It's San Marino.
England hadn't knocked Italy away since 1961; Southgate brought it up at his press conference on Thursday night. It was a challenge and his team thrived on overcoming them, he said. It also felt like a call for perspective. Italy may not have re-qualified for the World Cup, but guys, it's Italy.
This Italy is a work in progress; not a team to intimidate, despite the pedigree of Gianluigi Donnarumma, Leonardo Bonucci and Jorginho – plus flashes of emerging talent. The rows of empty seats in San Siro highlighted the local indifference and also the lingering nightmare that is the country's absence from Qatar.
England struggled throughout the first half. They were nervous, their passing loose, many of their touches heavy. Goalkeeper Nick Pope's division didn't inspire confidence and it felt like a risky business to return to him, but he wasn't the only one handling the ball like hot coals. Phil Foden, who played on the right, was a rare consolation in possession.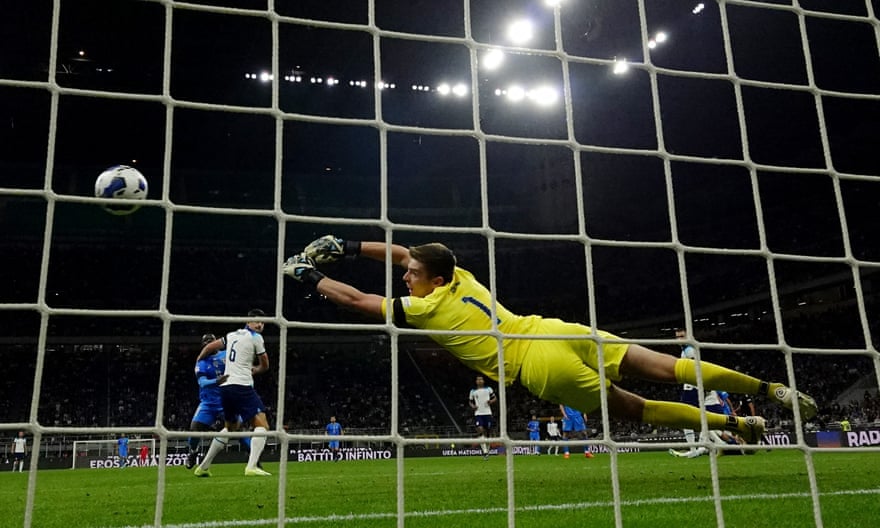 Italy picked up tackles early on, put England under high pressure and got dangerous balls through the channels or over the flanks. When Federico Dimarco dropped one on the far post, a header from Gianluca Scamacca was clawed away from a tight angle by Pope. England would also enjoy a letdown later in the first half when Raspadori shook his ball after falling back from the right. The home team tried to aim for the space behind Bukayo Saka on the left back.
Southgate would have wanted to be progressive despite returning to a back three. Hence the selections of Reece James at right-back and Saka, plus Jude Bellingham in midfield. Still, the plan of attack was woolly. Southgate would complain about bad final decisions or executions. It sounded like he was clinging to straws.
England didn't stretch Italy at all before half-time; they couldn't figure it out. Bonucci & Co looked at ease. And that was not very different in the second half, despite a late push.
James lavishly lifted a well-placed free kick while Kane had a chance from a tight corner. He hit it at Donnarumma, who hit it back. Should Kane have been squared? In the rebound, Kane hit Donnarumma again. Bellingham tried to drive forward and he was going to get a header chance in stoppage time, but it was a thin gruel.
Italy had threatened after halftime, Scamacca almost played in Nicolo Barella only for an offside flag to move up. A heel by Giovanni Di Lorenzo almost opened the defense of England and then Raspadori won gold, his stroke a beauty.
Southgate introduced Luke Shaw and Jack Grealish to Walker and Saka and switched to 4-2-3-1, Raheem Sterling as the number 10. It wasn't the formation that was the problem and Italy might have had a second. Pope denied the substitute, Manolo Gabbiadini, in a one-on-one while Dimarco's cross shot came back from the far post.