Bernard Foley's decision to shoot for goals quickly proved crucial in the Wallabies' splashing comeback at Bledisloe I, but new footage shows it has ultimately cost his side.
With the Wallabies under the pump in the second half, Foley took the ball to the line and was offloaded to Andrew Kellaway to score.
The moment proved to be the turning point for the Wallabies, with the home side scoring two more in quick succession before taking a late lead through a long-range penalty.
While replays were inconclusive, Foley was clearly trying to rush the conversion because the pass was, as Ian Foster later said, "questionable".
Stream over 50 sports live and on demand with Kayo. New to Kayo? Start your free trial now >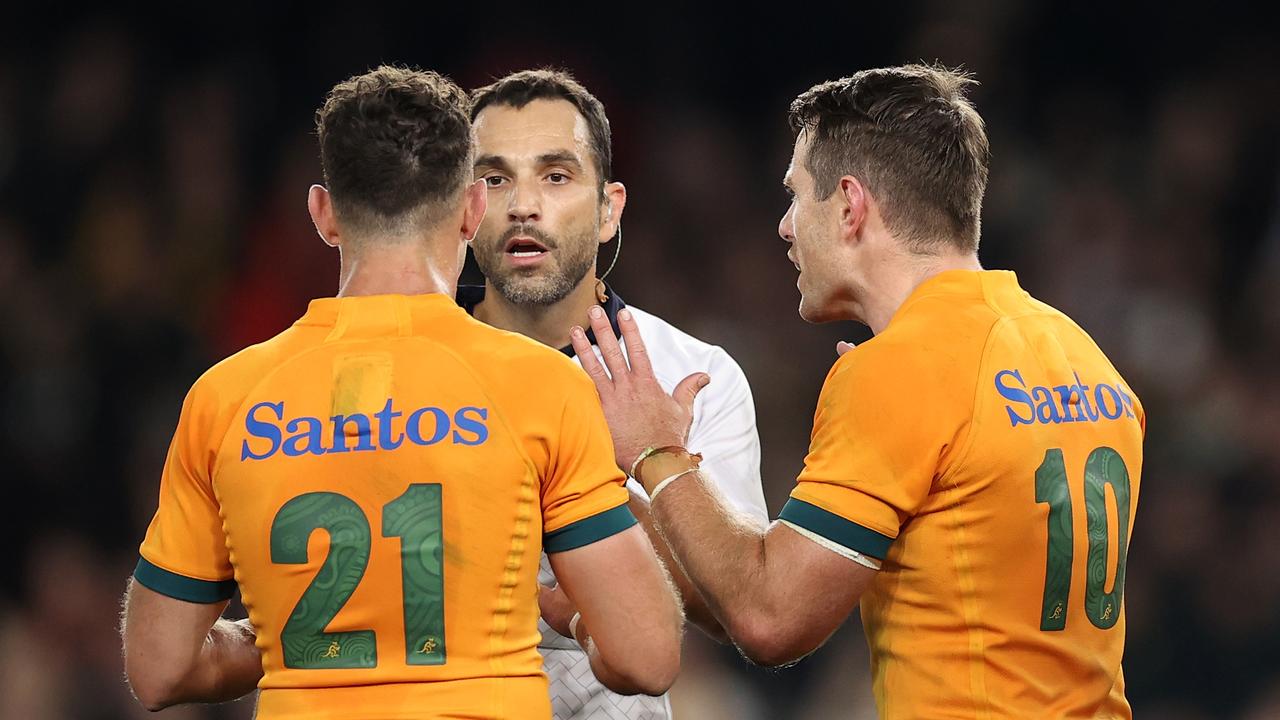 Still, Foley's decision to ignore Mathieu Raynal after Kellaway's first attempt might have bitten him, as the French umpire later awarded the All Blacks a game-changing scrum as the Wallaby took too long to take a penalty.
Raynal clearly told Foley to "wait a moment" when the Australian No. 10, who played his first test since the 2019 World Cup, made a shot within seconds where he successfully converted.
"Please wait. You have to wait. You have to wait!" Raynal said.
Nevertheless, the French referee took no action, but allowed the conversion to stand as Foley walked back to his half.
While kickers rarely actively ignore instructions from umpires, quick kicks are often taken when there is an element of fear of trying to turn around or when teams are chasing play.
Former Wallabies halfback Will Genia said on Stan's Rugby Heaven that the incident could have played a part in Raynal's decision to ping Foley for taking too long to get a penalty.
"That footage is huge because for me personally, because I've been there with umpires on the field and your interaction with them, that definitely stays in his psyche to move forward," Genia said.
"Obviously Bernard kicks the goal and Bernard at the end who takes the penalty to kick it out. For me, it's definitely something that's in his head.
"The funny thing is that he asks him to wait, but then still allows the goal kick to go through and the conversion succeeds, when he had every right to withdraw it."
Two-time World Cup winner Tim Horan agreed that Foley probably knew why Raynal asked him to wait.
"He could have brought it back. I think he was waiting for the TMO to see if it was a forward pass to Kellaway or not," Horan said.
"Bernard Foley knew he was probably going to go to TMO and so he fell for it quickly. But Raynal had a chance to get him back and then just kept playing.
"So I'm not sure if it was playing in his head for the last 90 seconds or not, but it could have happened."
READ MORE
COLUMN: After Their Best Performance in Years, It's Time for the Wallabies to Get Rid of the 'rugby's great pretenders' label
'MOUTHING OFF': Rennie fires back at AB's star over haka 'disrespect', takes out double standards
'Not intentionally, but very reckless': Wallabies star gets six weeks suspension
Earlier, Foster said the nature of rugby meant there were "swings and roundabouts" that affected the results.
"I understand there is a controversial nature to it, but it was very clear from our position," Foster said in his press conference after Bledisloe I.
"The other one that wasn't clear was when (Andrew) Kellaway scored and the TMO wanted to look at a very suspicious forward pass and yet the conversion was allowed to go through.
"So there are some swings and roundabouts.
"If people think that's what decided the test match, then you go through and analyze all the other decisions in the game."
Yet such decisions rarely happen in the final minutes of Tests, with officials generally blowing their whistles.
Saturday's Bledisloe Cup return match at Eden Park will be one of the most spirited in the history of the trans-Tasman neighbours.
On Thursday, Wallabies coach Dave Rennie Rieko reprimanded Ioane for "pushing off" his team for their response to the All Blacks' haka.
Both countries have been forced to make changes to their sides due to injury, with the All Blacks making six changes, while the Wallabies making two changes to their front pack following injuries to Rob Leota and Matt Philip.